Let's know more about
Hilintec micro pump
a leading miniature diaphragm manufacturer
 It is not only the attitude of Hilintec towards customers and partners, but also the working attitude of Hilin people
It's the source of Hilin's self-positioning and core competitiveness
It's our principle on product quality,research and development and daily work.
Customer-centricity is our standard for carrying out and evaluating all work
How to define talents, how to evaluate their contributions, and how to grow together with talents


Learn from and stand among the first class
It's our standard for self-realization, it's our development goal and development path.


To be a driving force in innovation of human fluid technology
Create value for customers by offering high quality fluid solutions
Chengdu Hilin Technology Co., Ltd., is an innovation enterprise located in the Southwest Airport Economic Development Zone, Shuangliu District, Chengdu, China, specializes in the research, development, production and manufacturing of micro vacuum pumps, valves and providing technical solutions; our product line includes micro vacuum pump series, micro  air compressor pump series, piston pump series, precision control valve series and related supporting products.
Hilintec has a complete system of research, development, production and testing technology and owns a number of  intellectual property rights.We can provide customized micro pump products according to customers' needs.
Our products are widely used in many fields such as gas sampling, instrumentation, biochemical industry, beauty equipment, medical care, automatic control, environmental protection analysis, water treatment, laboratory analysis and testing instruments, etc.
Our company follows ISO9000 quality control standards. All products are tested before shipment. It is our commission to help customers succeed with our first-class quality and professional service.
We have a rich product line of micro pumps that can meet different specifications and application requirements
It can be used for vacuuming and transmitting gas medium, and can work under negative pressure and normal pressure
Diaphragm Pump Compressor
It can pump negative pressure or positive pressure, and can be used to compress air or transmit gas media
Liquid pumps with self-priming and dry-run capabilityn, which can be used for suction or spray liquid media.
Compared with diaphragm pump, it can output higher pressure and can be used for pneumatic drive and compressing gas
Instruments based on fluid transmission and control system, used for scientific experiment
Various accessories supporting the micro pump, such as filters, check valves, regulating valves, mufflers, dampers.
ISO9001:2015
CE LVDS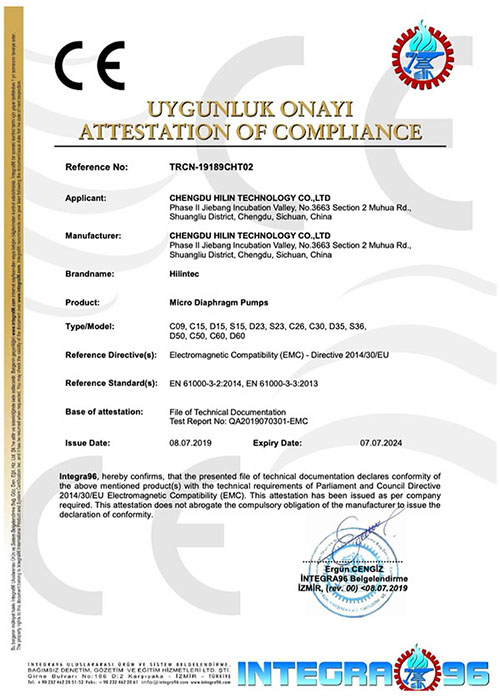 CE EMC
RoHs
Rohs
Here is a short video about our team and team members
MON-FRI 09:00 - 17:30, SAT 10:00 - 17:00 UTC +8:00 Beijing Time